CME 2022: New Orleans, LA
Sunday, October 9, 2022 5:00 PM - Tuesday, October 11, 2022 12:00 PM (EDT)
Description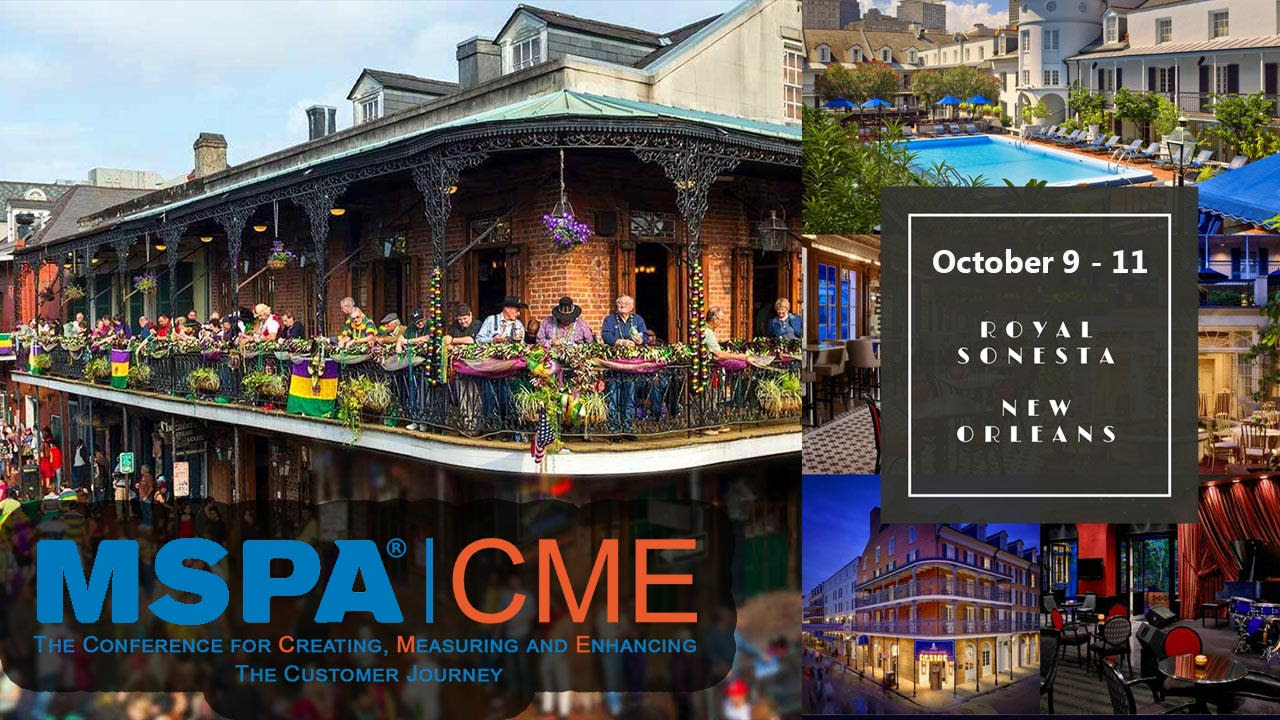 The inaugural CME conference, The Conference for Creating, Measuring and Enhancing the Customer Journey, which also celebrates the the 25th anniversary of MSPA Americas, promises a packed line-up of top speakers coming to deliver actionable ideas at our venue in the stimulating environment of the famous New Orleans' French Quarter!
Skip directly to the agenda by clicking here.

One issue that everyone seems to be challenged with is recruiting and retaining workers, whether they be W-2 or 1099. CME is excited to welcome Michelle Lueck, SVP, Growth Strategy, at Unboxed Technology to share her insights and experience in finding and retaining a good work force to help inspire solutions for attendees.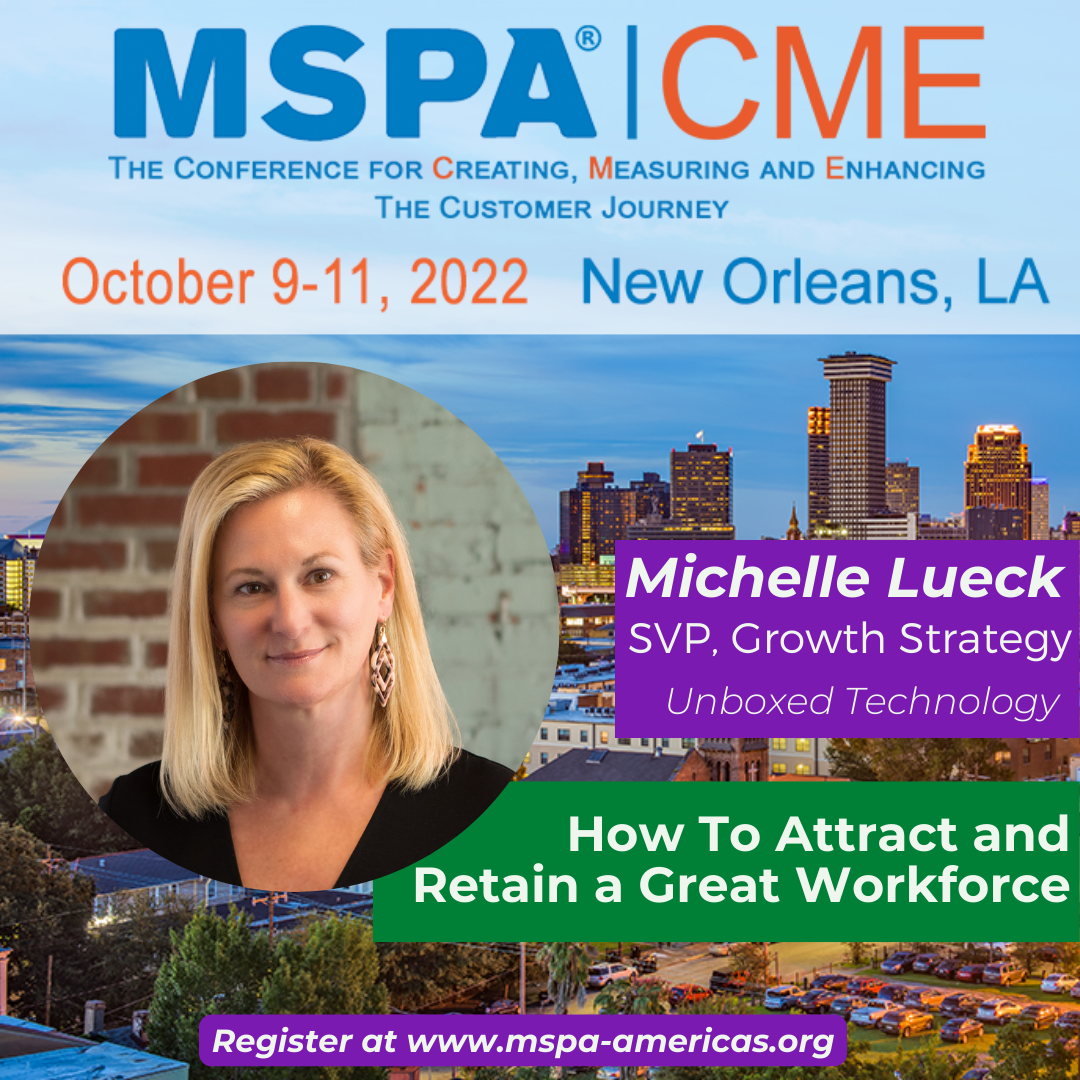 Michelle is one of nearly a dozen presenters who will share a wide range of topics to meet the varied needs of our industry-diverse membership, including US Air Force Lt. Colonel Dustin Pawlak. Dustin has spent years training, educating, and commanding military and civilian members teaching leadership principles, discipline, international relationships, and etiquette.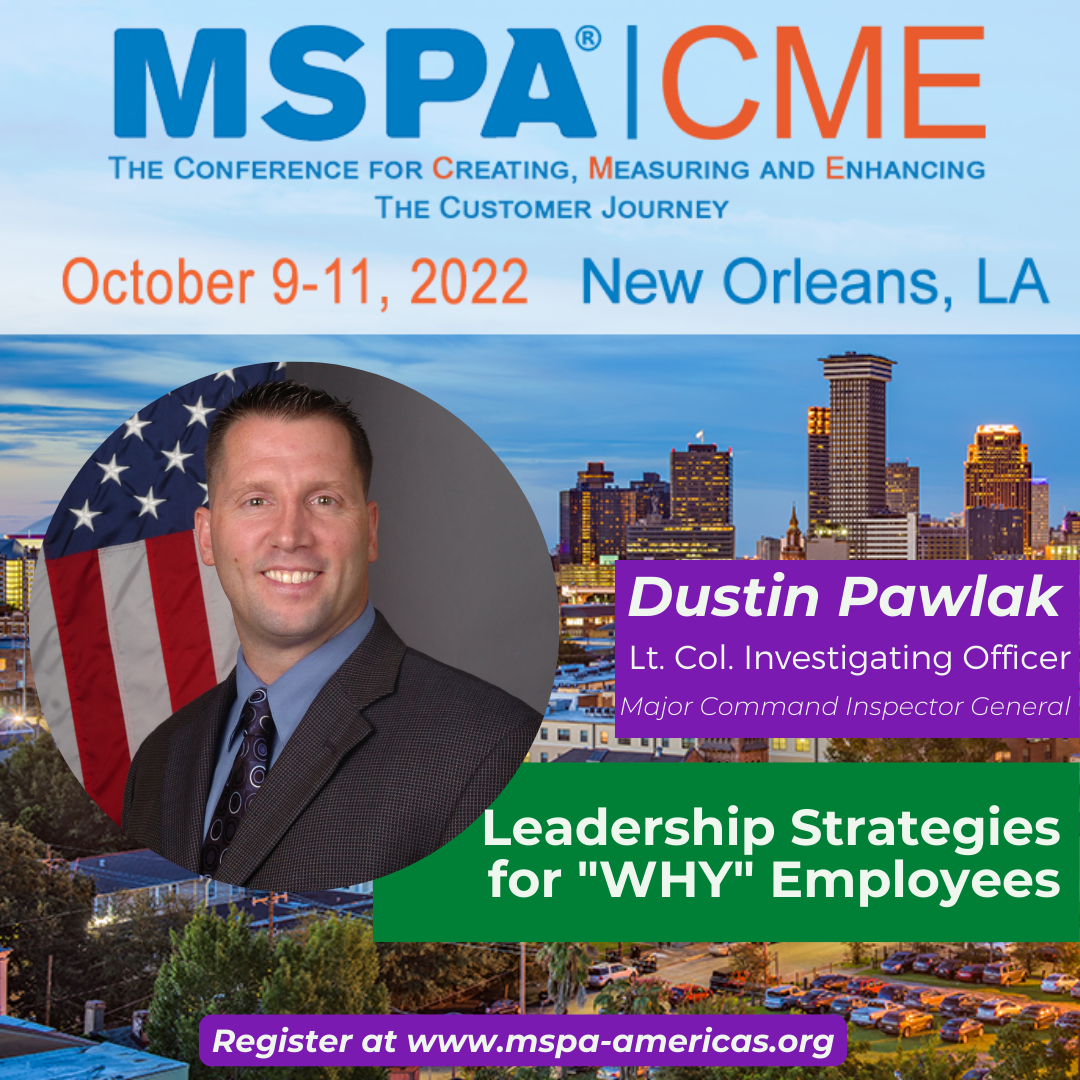 MSPA Americas will be sharing more about each speaker over the next few weeks as the anticipation for a great conference builds. In the meantime, you can begin your registration by clicking on the button below.
Start

End

Topic

Participants/ Speaker

Sunday, October 09, 2022

3:00pm

7:00pm

Registration Open

9:00am

12:00pm

MSPA Americas Board Meeting

MSPA-AM Board

12:00pm

1:30pm

Worldwide Board Lunch

All Board Members

1:30PM

3:00pm

MSPA Global Board Meeting

MSPA Global Board

5:30pm

6:30pm

Past Presidents' Reception

Past Presidents

6:30pm

7:30pm

Worldwide Board Reception

All Board Members

7:30pm

10:30pm

Silver Celebration Opening Dinner Party

All Attendees

Monday, October 10, 2022

8:30am

4:30pm

Registration Open

9:00am

9:15am

Conference Welome

Stan Hart

9:15am

10:00am

Leadership Strategies for "WHY" Employees

Dustin Pawlak

10:00am

10:45am

Inside an Elite Hacking Organization: LAPSUS$

Bryan Seely

10:45am

11:15am

Networking Morning Break

11:15am

12:00pm

General Session

12:00pm

12:45pm

People, Places and Product: The Evolution of the Customer Journey of Today and Tomorrow

Michael Koch

12:45pm

2:00pm

Celebration Lunch/Dr. Leonard Hock

Leonard Hock

2:00pm

2:30pm

General Session

2:30pm

4:00pm

Breakout Sessions

4:00pm

5:00pm

One-on-One Appointments

4:00pm

5:00pm

Mardi Gras Reception Sponsor by Live Shopper Sassie

5:00pm

7:00pm

Free Time

7:00pm

French Quarter Dine-a-Round

Tuesday, October 11, 2022

8:30am

2:30pm

Registration Open

9:00am

9:15am

Program Start

9:15am

10:00am

How To Attract and Retain a Great Workforce

Michelle Lueck

10:00am

11:15am

Circling the Wagons to Protect our Businesses

Russ Hollrah

11:15am

12:00pm

Closing Session

12:00pm

1:30pm

Annual Meeting & Closing Luncheon

Stan Hart
Things To Do In New Orleans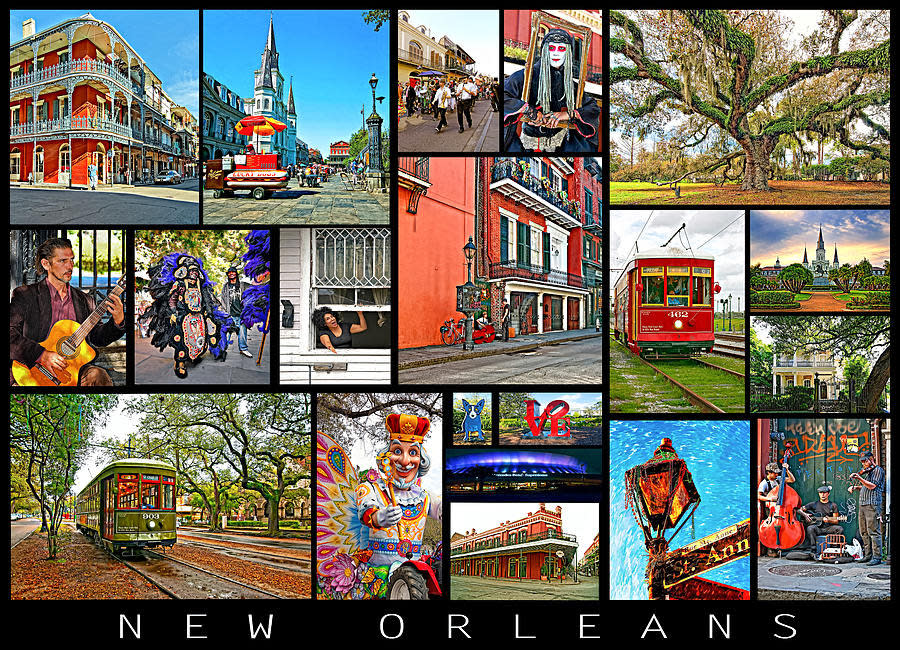 LSU Football Tickets
Description: October 8th Football game Tennessee @ LSU
StubHub Link: LSU Tigers Football Tickets - StubHub
LSU Link: LSU | Online Ticket Office | Event Groups (evenue.net)
Saints Football Tickets
Description: October 9th 1:00PM Seahawks @ Saints
SeatGeek Link: Your Ticket to Sports, Concerts & More | SeatGeek
Ticket Master Link: New Orleans Saints Tickets | 2022 NFL Tickets & Schedule | Ticketmaster
Walking Tours
Description: Explore the city through various ghost and history walking tours as you walk around New Orleans and the French Quarter
Link: Unique NOLA Tours | Best New Orleans Walking Tours
20% Off Code: MSPA2022
Oktoberfest
Description: Presented by Deutsches Haus', Oktoberfest NOLA brings Germany's beloved celebration to the Crescent City for three weekends filled with German culture, cuisine, and fun. Fest-goers can expect a host of authentic German foods, live music, dances, and activities.
Link: - Oktoberfest New Orleans (oktoberfestnola.com)
New Orleans Cooking Class
Description: In the demonstration class sit back and enjoy as a chef creates a classic Cajun meal for you while providing history of Cajun cooking.
In the hands-on class you get to cook & eat an authentic Louisiana meal! In this highly interactive class guests actually cut, season and prepare a complete dinner with one of our expert chefs, and afterwards guests are able to sit down and enjoy the meal they have just created.
Hands-On Class: Hands- On Cooking Classes | New Orleans LA | New Orleans School of Cooking
Group Demonstration Class: Demonstration Cooking Classes | New Orleans LA | New Orleans School of Cooking
New Orleans Steamboat
Description: Experience a spirit of adventure on the newest vessel to the French Quarter riverfront, the Riverboat CITY of NEW ORLEANS as she takes you on a journey down the mighty Mississippi. See captivating views of the French Quarter fade into the distance as the joyful tunes of traditional jazz carries you down the river. Stroll the multiple decks, explore the beautiful refinished interiors and savor the leisurely two-hour cruise that will give you panoramic views of the Mississippi River and the many unique sites along her banks, with live narration.
Link: New Orleans Steamboat Company | Steamboat Natchez
Old Fashioned Plantation Tour
Description: Join our award-winning plantation adventure as we pick you up from your New Orleans hotel for a narrated journey down Old River Road, which the Smithsonian Institute calls a "museum of the American South" with over 120 registered items.
The Travel Channel and Yahoo have lauded our efforts for both our New Orleans plantation tours and our swamp tours.
Link: Plantation and Swamp Tours | New Orleans, LA (plantationadventure.com)
Mardi Gras World
Description: When you begin your Mardi Gras World tour, you'll get an overview of the history of Mardi Gras in New Orleans before continuing through our float den, where our artists work year-round to build spectacular floats and props. You never get this close to the floats while they're rolling in Mardi Gras parades, and this is certainly the only place to see how these amazing pieces come to life each year.
Link: Mardi Gras World Tickets & New Orleans Tour Packages
New Orleans Zoo
Description: Located in historic Uptown New Orleans Audubon Zoo cares for animals from around the globe, engaging educational programs, and hands-on animal encounters. Unique natural habitats such as the award-winning Louisiana Swamp and Jaguar Jungle showcase the relationship between people and nature. Don't miss the daily animal presentations, chats and feeds; our highly endangered whooping cranes, Amur leopards, and orangutans; our tiger; and our mysterious white alligators.
Link: Audubon Zoo - New Orleans - Audubon Nature Institute
New Orleans Aquarium
Description: The Aquarium transports visitors to an underwater world from the Caribbean, to the Amazon Rainforest, to the waters that give New Orleans its lifeblood: the Mississippi River and the Gulf of Mexico. With more than 3,600 animals from more than 250 species, including endangered species, such as African penguins, and rare animals, such as white alligators, the Aquarium offers you an experience you'll never forget.
Link: Audubon Aquarium of the Americas - New Orleans - Audubon Nature Institute
Sponsors
Platinum Event Sponsor
LiveShopper Sassie
Lanyard Sponsor
Wordsmith Pros, Inc.
Images
Pricing
Regular/Global Member: $900
Add'l Member: $700
Associate Member: $1200
Add'l Associate Member: $1000
Non-Member: $1200
Royal Sonesta New Orleans
300 Bourbon Street



New Orleans

,

LA

70130

United States



Located on world-famous Bourbon Street, Royal Sonesta New Orleans effortlessly combines timeless elegance and southern refinement, setting itself apart from other French Quarter hotels. 483 guest rooms and suites, authentic hospitality, a Food is Art philosophy, wrought-iron balconies, and a lush courtyard create an experience unlike any other.
Sunday, October 9, 2022 5:00 PM - Tuesday, October 11, 2022 12:00 PM (EDT)
Sunday October 9 2022 - Tuesday October 11 2022