ShopperFest 2021: Houston, TX
Friday, June 25, 2021 5:00 PM - Sunday, June 27, 2021 12:00 PM (CDT)
Description
After you register for ShopperFest, then you will reserve your room with the hotel by clicking this link for a $99/night room rate.
ShopperFest is back!
Join us in Houston, Texas for ShopperFest 2021, June 25-27, and take your career to the next level!
ShopperFest is the independent contractor conference held annually to network with each other and industry/company leaders over the course of a weekend. The current year's MSPA Board of Directors and other company executives are your instructors as you learn more about mystery shopping, merchandising and customer experience while developing additional skills.
The conference consists of a traditional track and a video track, although there is some crossover allowed to attend sessions from both areas. Within the traditional track, attendees participate in broad general sessions as well as smaller group discussions for experienced attendees and those who are new to the industries. Those on the video track spend most of their time in sessions intensely focused on the techniques and art of conducting video mystery shops.
The event begins with a Friday night reception where you will meet with executives and other staff, including schedulers, from MSPA Americas member companies. It's your chance to find new MSPs to register with and impress! The networking session is followed by the traditional MSPA Game Night, where you will see old friends or seamlessly blend in with your new MSPA family during a fun night of getting to know each other before the education sessions begin on Saturday.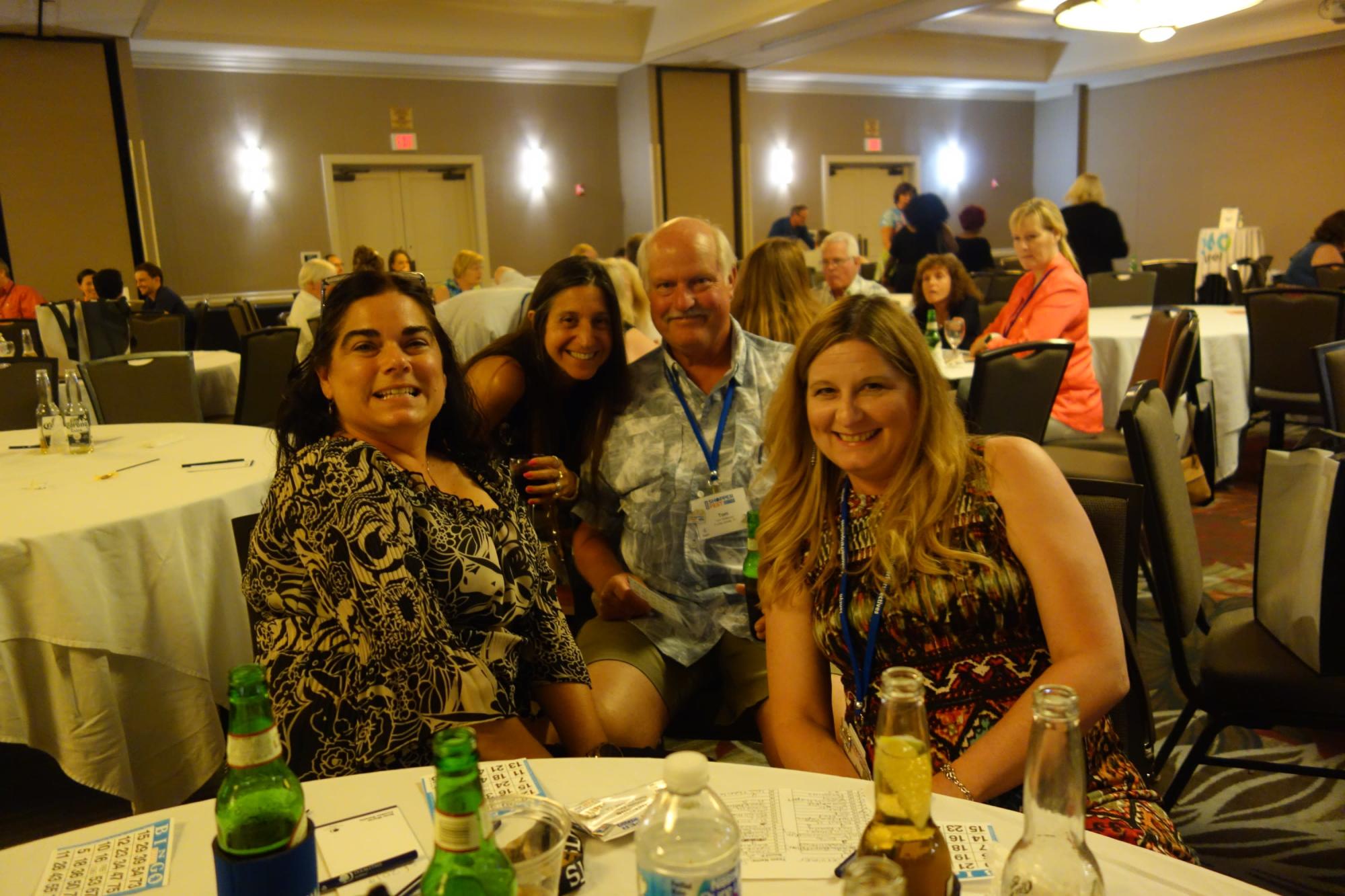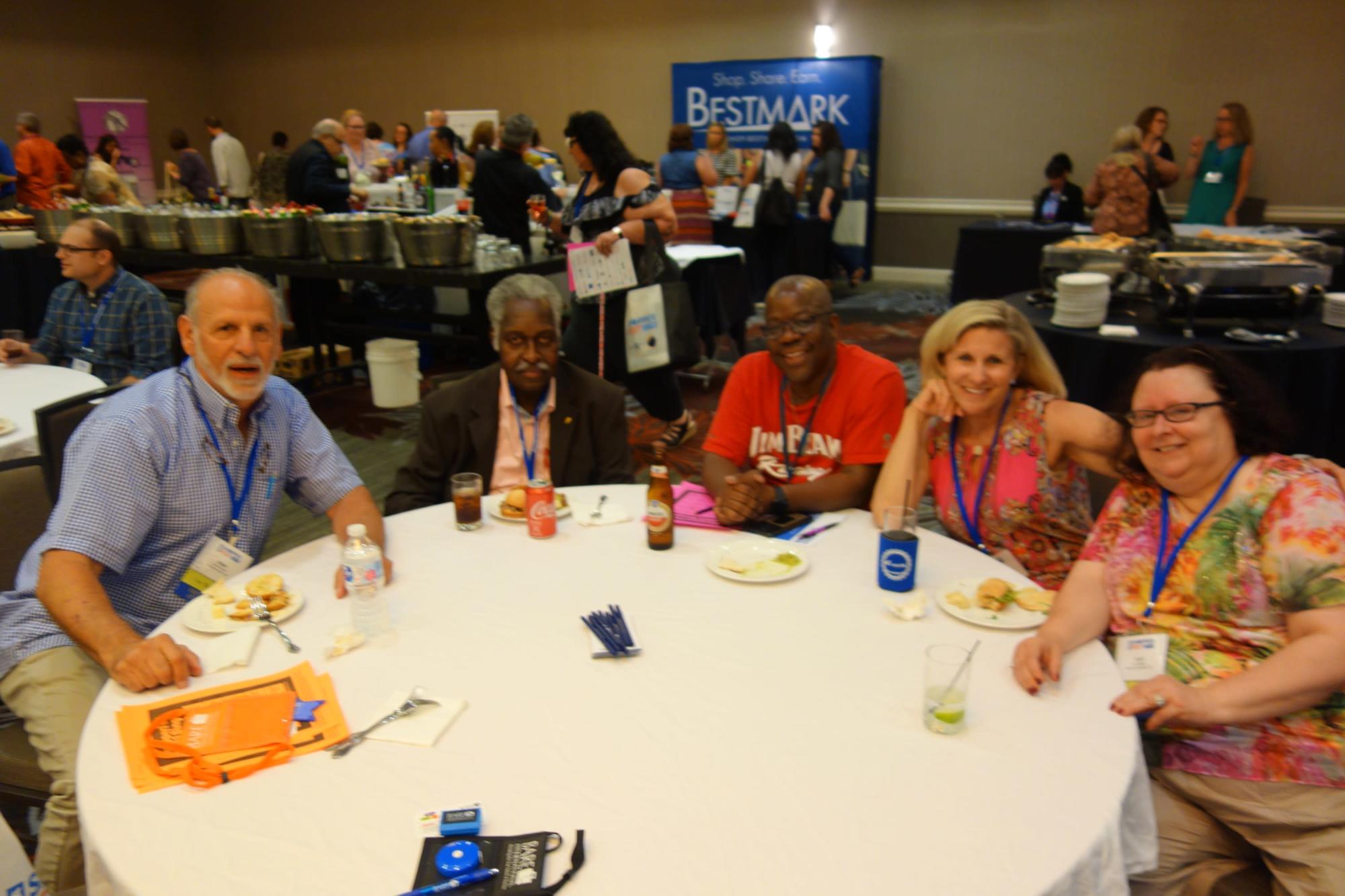 You also have the opportunity to attend certification review sessions and take select MSPA certification courses onsite. Simply purchase the course in advance and come to the review session on Friday or Sunday at the conference. Exams are scored onsite, and all who achieve certifications will be recognized in person at the closing luncheon.
A healthy mind needs nourishment, so most of your meals are included, namely: the Friday night reception, a hot breakfast (for hotel guests) and lunch on Saturday and Sunday, with snacks in between!
On Saturday night, join fellow attendees for an optional off-site event (cost not included with registration), hang out at the pool or take an Uber to savor a Texas ribeye and explore downtown Houston at your own pace.
You'll also attend the Shoppers' Choice Awards presentation ceremonies, participate in giveaways for hundreds of dollars of door prizes and gift cards, and get down during the traditional M-S-P-A dance!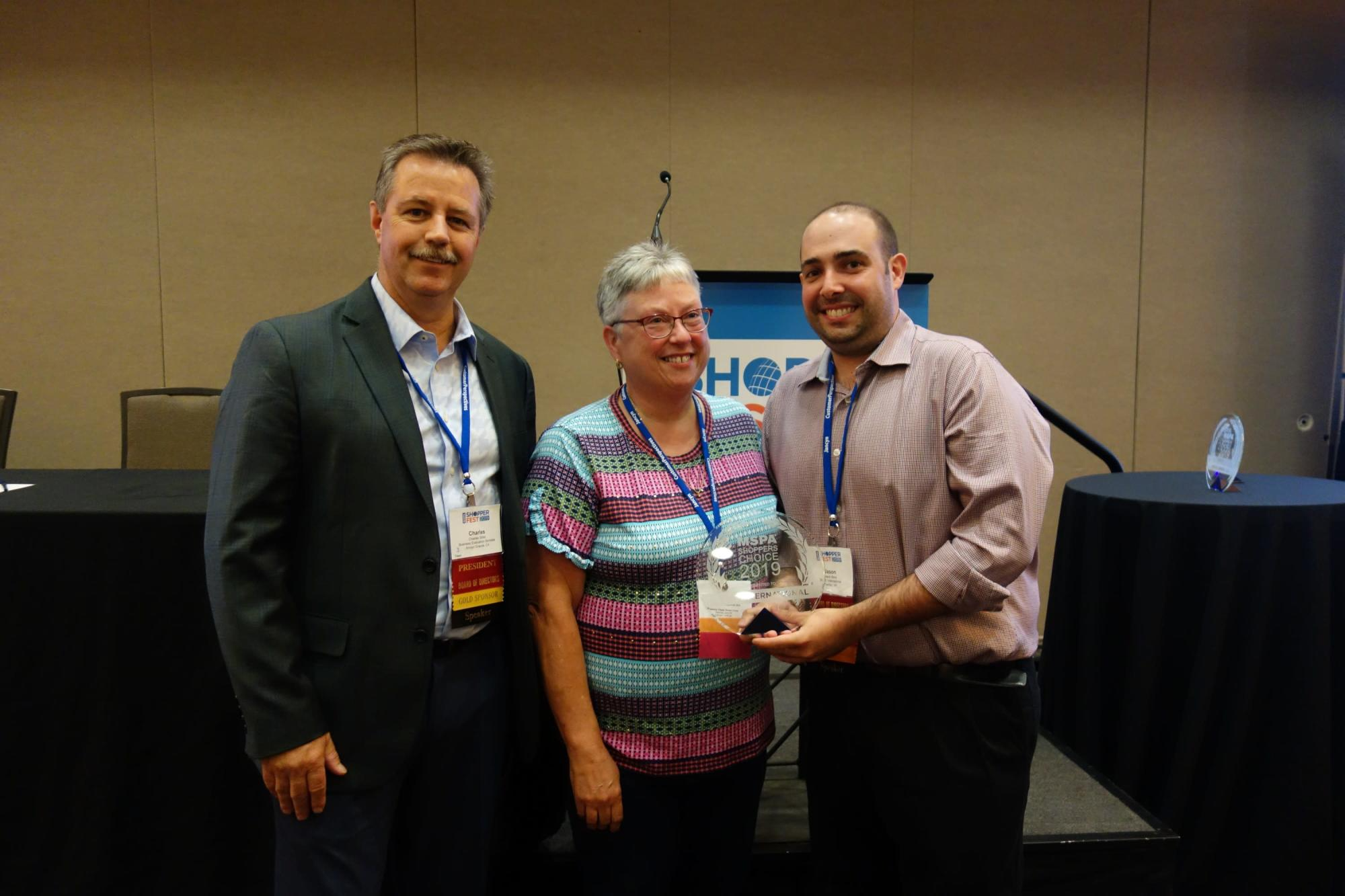 It is a magical weekend which flies by quickly, and leaves a few tears as friends, new and old, depart after taking in industry information straight from the source; developing new strategies to increase earning opportunities; and making great contacts, friends and memories – until we meet again!
Your registration includes: Friday's Opening Night Reception and Game Night, all general and breakout sessions on Saturday, lunch and coffee breaks on Saturday and Sunday, and free entry into prize drawings all weekend. A hot breakfast is included with hotel reservations at the Sheraton North Airport hotel at a special rate of $99 single/ $109 double, our lowest hotel rates ever at ShopperFest. There is also a free hotel shuttle from the Bush Intercontinental Airport to the Sheraton.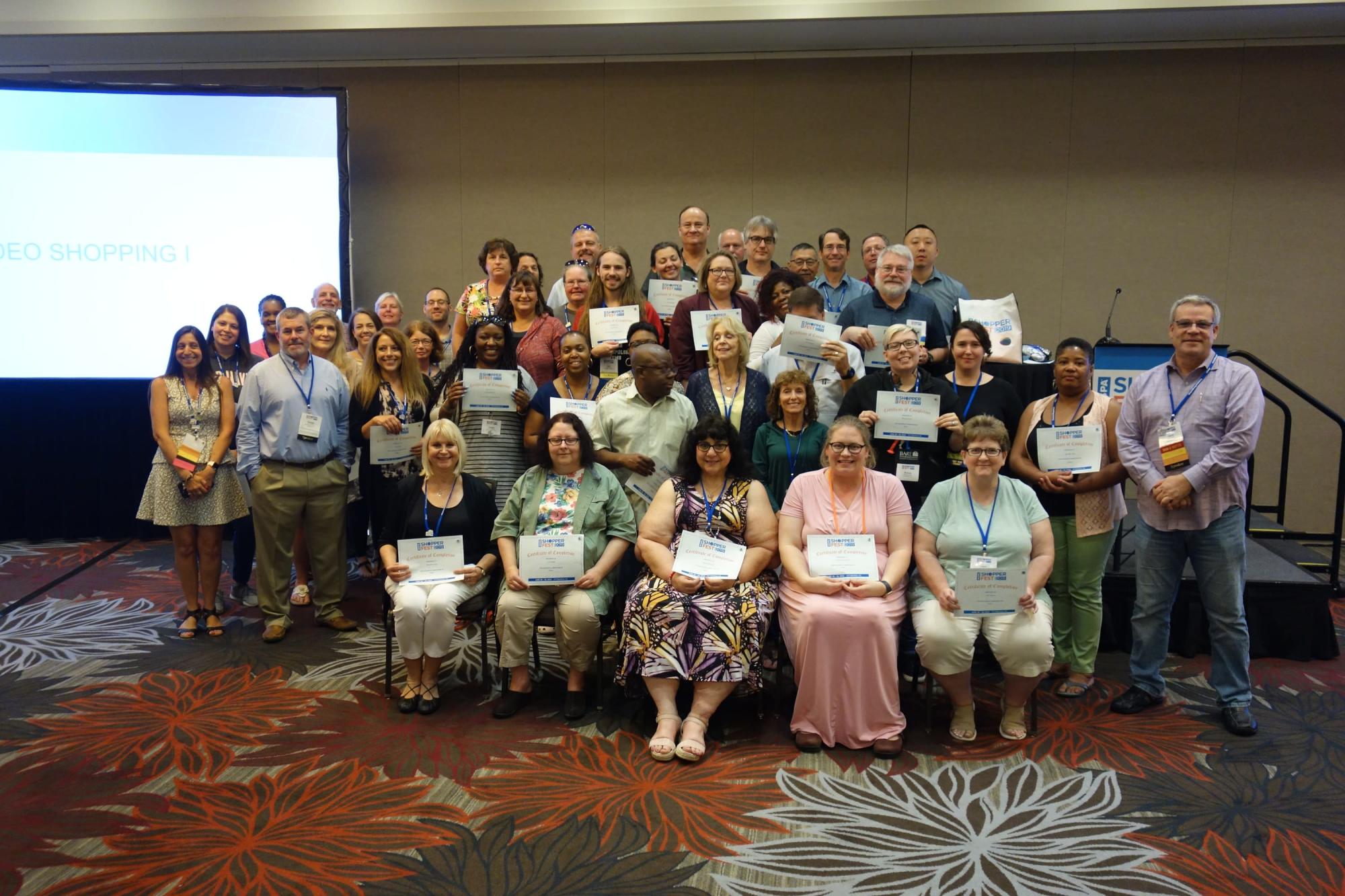 FAQ
What is ShopperFest?
ShopperFest is the annual independent contractor conference held to network with each other and industry/company leaders over the course of a weekend. The current year's MSPA Board of Directors and other company executives are your instructors as you learn more about mystery shopping, merchandising and customer experience while developing additional skills. The information given attendees comes straight from the company owners and executives that independent contractors complete projects for.
Is this for new shoppers/contractors or experienced shoppers/contractors?
Both. ShopperFest is intentionally designed to present speakers and panels which disburse information on a wide scale that is valuable to all attendees, as well as smaller group breakouts with sessions that may be more applicable to those new to the industry, and others which may be more interesting to veteran contractors. But the great news is that while we recommend which sessions to attend based on your years in the industry, this is your conference, so you are free to attend whichever sessions you like.
What kinds of topics are discussed at ShopperFest?
Here is a list of the session topics from both the traditional and video tracks at ShopperFest 2019:
Service Provider Roundtable: Be This Shopper, Not That Shopper!

Ask the Attorney: Shopper Issues, Questions and Answers

War Stories and Best Practices

Cruises, Casinos and Resorts: Landing the Big Gigs

The Organized, Successful Mystery Shopping Professional Starter Kit

The Believability Factor …Do You Have It?

They Wrote What?! Writing that Closes Doors

Driving Revenue as a Route Shopper

Hitting Send: Now What Happens to My Report?

Are You Taking Your Full Tax Deductions?

Be this Video Shopper, Not that Video Shopper

Meeting Company/Client Expectations

Video and Specialty Shops

Overview of Various Cameras and How to Operate Them

Making Every Day/Shop Count: Top Takeaways for Success

Video Shopping New Homes and Property Management Companies

Advanced Route Shopping for Video Shoppers

Completing Your Shops with Your Mobile Phone or Glasses
Which meals are included with my registration?
Food and beverage at the Friday Opening Reception, lunch on Saturday and Sunday, and coffee breaks on Saturday and Sunday. If you are staying at the hotel, your rate includes a free hot breakfast each day as well. The only meal not included is dinner on Saturday.
Why do I have to choose a Video or Traditional track?
Before 2019, ShopperFest offered only what is now referred to as the traditional track. In 2019, MSPA Americas built a "conference within a conference" by also offering a weekend of video training to coincide with ShopperFest. If you mostly want to spend the weekend learning about video shopping, sign up for the video track. Note that even if you sign up for the video track, there are times during the weekend where you will be able to choose to attend a traditional session or the entire group of attendees will be merged together. However, most people who come to ShopperFest are there for the broad education and will sign up for the traditional track unless they are there specifically for video training. Also note that you do not have to sign up for the video track to take Video I or Video II certification courses at ShopperFest 2021.
Are certifications courses included?
A select handful of MSPA certification courses will be offered onsite during ShopperFest weekend, but they are not included in your base registration fee. The good news is that they cost the same price as when you take them online throughout the year, but you have the ability here to attend a review session where your instructor will go through the material with you and answer any questions before taking the course exam. Please note that you should purchase the course in advance and study the material before coming to ShopperFest, although you can sign up for courses onsite. Certification courses are offered on Friday afternoon and Sunday morning to not interfere with most other ShopperFest sessions. The list of the certification sessions being offered at this year's ShopperFest will be announced shortly.
What is special about taking certification courses at ShopperFest?
You attend a complimentary review session led by an instructor who can answer your questions before taking the exam.

You take the exam at the conference and receive notice of your passing status onsite before you leave.

Those who pass the exam are recognized at the closing luncheon. This includes:

Your name being announced and recognized at the closing luncheon

Being awarded a physical certificate for passing the course (only given at ShopperFest)

Being awarded a commemorative pin for passing the course (only given at ShopperFest)

A photo for the newsletter of you and your passing classmates

It costs the same price for a certification course completed at ShopperFest as it does when purchasing year-round at home on KnightOwl.
What other expenses might I incur at ShopperFest?
Your transportation to Houston, your hotel expense, the optional Saturday night activity if you choose to attend or an evening meal on Saturday if you don't attend the event, and any certification courses or other purchases that you make at conference (video gear for video shopping, the MSPA pin holder for your certification pins, etc.). A daily hot breakfast is only included for attendees registered to stay at the hotel as part of the room rate.
How much is the ShopperFest registration?
$160 for IC Plus Members and $190 for all others (see, your IC Plus membership just paid for itself in addition to the many other benefits it provides!)
What is the refund policy?
Register with confidence. If you register and need to cancel or request a refund, you are entitled to 100% refund until May 1, 50% refund until June 1, and 0% refund after June 1. All forfeited amounts will be issued as credits (no cash value) to be used on MSPA certifications. These credits will expire on 12/31/21.
COVID-19 Safety Protections
MSPA Americas is committed to conducting a safe and enjoyable event. To that end, MSPA Americas continues to monitor developments regarding COVID-19 and appropriate safety precautions. As of this date, attendees can expect the following safety protocols to be in place at ShopperFest 2021:
Temperature checks will be conducted at the first event of each day
Masks are to be worn in all common areas except when actively eating or drinking
All meeting space will be socially distanced throughout the weekend
In addition, the Sheraton North Houston at George Bush Intercontinental will be instituting the following safety protocols and practices listed at the link below.
Images
Pricing
IC Plus: $160
Subscriber/Non-Member: $190
Sheraton North Houston at George Bush Intercontinental
15700 John F Kennedy Blvd



Houston

,

TX

77032

United States



This contemporary hotel is 3 miles from George Bush Intercontinental Airport and I-69. It's 14 miles from Minute Maid Park in downtown.

Modern rooms have free WiFi and flat-screen TVs, plus minifridges, coffeemakers, and work areas offering desks and ergonomic chairs. Suites (some bi-level) provide living areas, and access to a club lounge with complimentary continental breakfast, drinks and evening appetizers.

Parking and an airport shuttle are complimentary. There's a bistro, a coffee shop and a lounge bar, plus a 24/7 fitness center and an outdoor pool. Other amenities consist of a 24-hour business center and 30,000 sq ft of meeting space.
Friday, June 25, 2021 5:00 PM - Sunday, June 27, 2021 12:00 PM (CDT)
Friday, June 25 2021 at 5:00PM through Sunday, June 27 2021 at 12:00PM.