ShopperFest 2023: Pittsburgh, PA
Friday, June 9, 2023 5:00 PM - Sunday, June 11, 2023 12:00 PM (EDT)
Description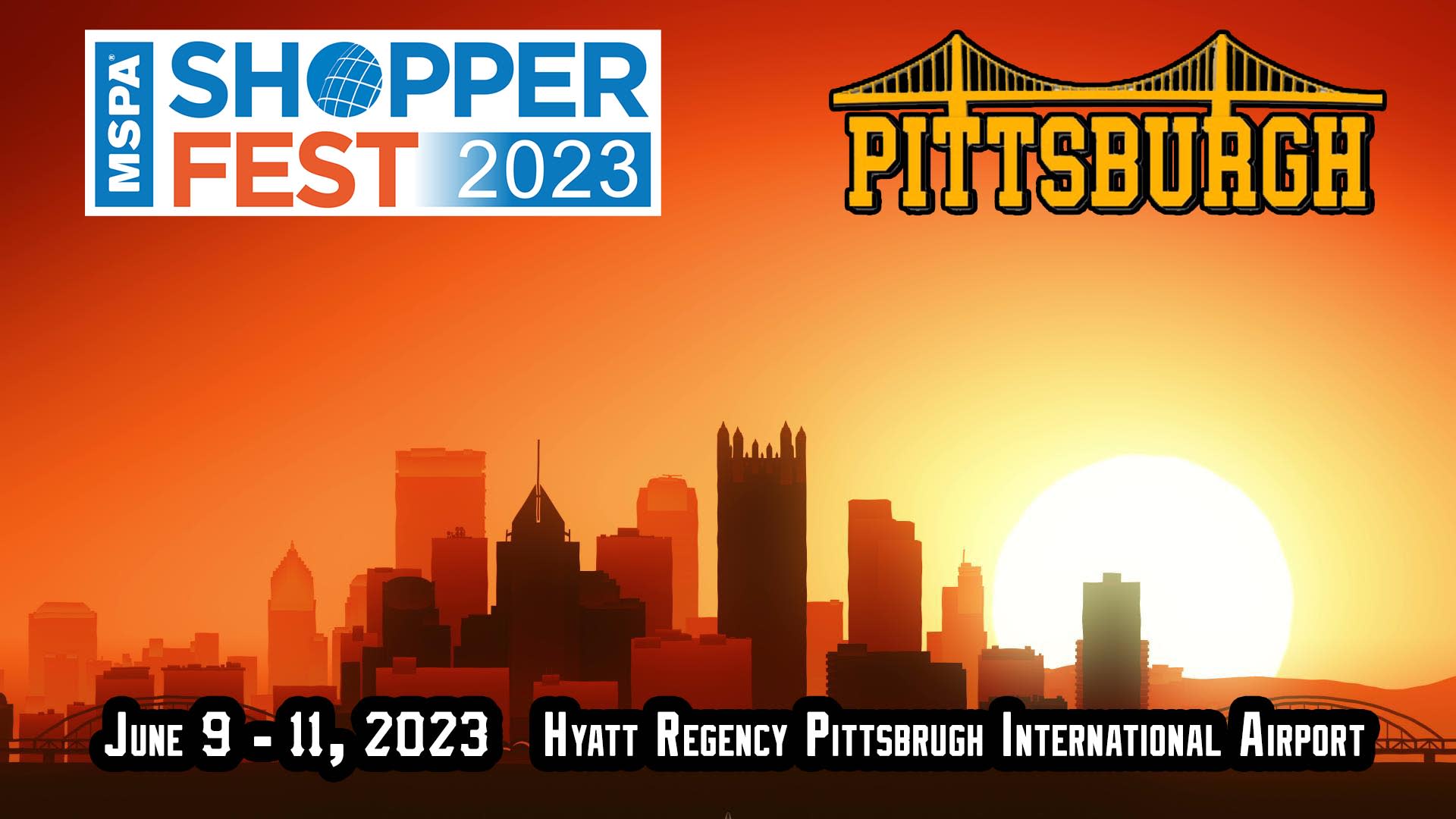 Presented by: Gigspot by Research Metrics and Reality Based Group
Register worry-free. Receive a full refund of registration fees if you cancel through May 31, 2023.

Join us for ShopperFest 2023 in Pittsburgh, Pennsylvania! The conference will be held at the Hyatt Regency Pittsburgh International Airport Hotel.
After registering for the conference, please click this link to book your hotel room here.
If the conference hotel sells out on a particular date, we have arranged hotel room blocks at a nearby hotels:
DoubleTree Pittsburgh Airport has free airport shuttles on request 24/7, so you may transfer to and from ShopperFest at any time. Click the link and book with the code MSP now through May 15.
La Quinta Inn has complimentary transportation to the airport from 3AM to 1AM. To book this hotel, you will need to call 412-269-0400 and mention you are booking under the room block of Michael Bradley (MSPA Admin).
Conference Agenda:
Click to Enlarge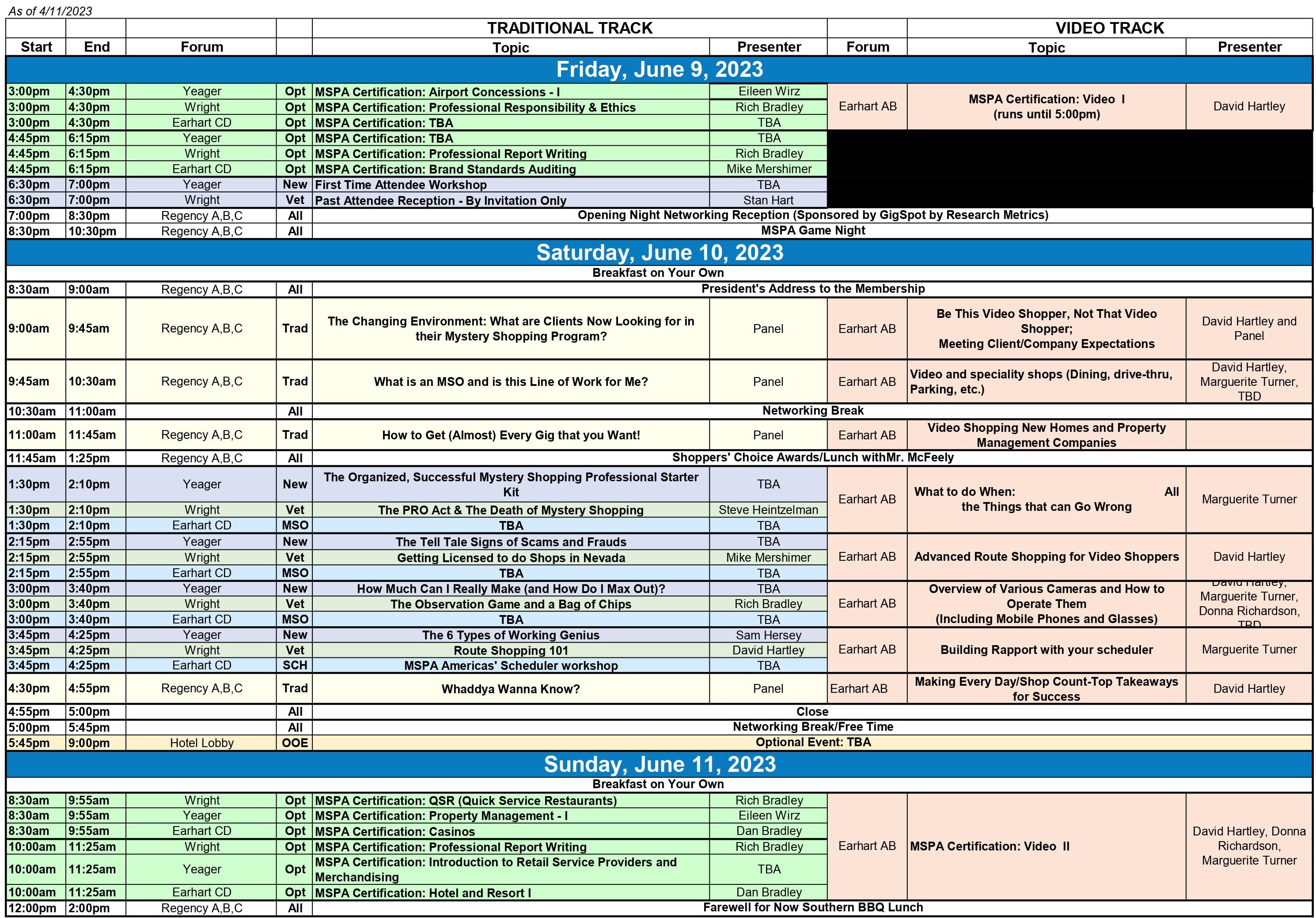 FAQ:
What is ShopperFest?
ShopperFest is the annual independent contractor conference held to network with each other and industry/company leaders over the course of a weekend. The current year's MSPA Board of Directors and other company executives are your instructors as you learn more about mystery shopping, merchandising and customer experience while developing additional skills. The information given attendees comes straight from the company owners and executives that independent contractors complete projects for.
Is this for new shoppers/contractors or experienced shoppers/contractors?
Both. ShopperFest is intentionally designed to present speakers and panels which disburse information on a wide scale that is valuable to all attendees, as well as smaller group breakouts with sessions that may be more applicable to those new to the industry, and others which may be more interesting to veteran contractors. But the great news is that while we recommend which sessions to attend based on your years in the industry, this is your conference, so you are free to attend whichever sessions you like.
Why do I have to choose a Video or Traditional track?
Before 2019, ShopperFest offered only what is now referred to as the traditional track. In 2019, MSPA Americas built a "conference within a conference" by also offering a weekend of video training to coincide with ShopperFest. If you mostly want to spend the weekend learning about video shopping, sign up for the video track. Note that even if you sign up for the video track, there are times during the weekend where you will be able to choose to attend a traditional session or the entire group of attendees will be merged together. However, most people who come to ShopperFest are there for the broad education and will sign up for the traditional track unless they are there specifically for video training. Also note that you do not have to sign up for the video track to take Video I or Video II certification courses at ShopperFest.
How do I get to the hotel?
The hotel is located at the Pittsburgh International Airport (PIT). You can walk there from your terminal. You do not need any additional transportation from the airport. Follow the signs to baggage claim to the walkway to the hotel lobby. If you are driving, the address is Hyatt Regency Pittsburgh International Airport, 1111 Airport Blvd Pittsburgh, PA 15231.
Which meals are included with my registration?
Food and beverage at the Friday Opening Reception, lunch on Saturday and Sunday, and coffee breaks on Saturday and Sunday. If you are staying at the hotel, your rate includes a free hot breakfast each day as well. The only meal not included is dinner on Saturday.
Are certifications courses included?
A select handful of MSPA certification courses will be offered onsite during ShopperFest weekend, but they are not included in your base registration fee. The good news is that they cost the same price as when you take them online throughout the year, but you have the ability here to attend a review session where your instructor will go through the material with you and answer any questions before taking the course exam. Please note that you should purchase the course in advance and study the material before coming to ShopperFest, although you can sign up for courses onsite. Certification courses are offered on Friday afternoon and Sunday morning to not interfere with most other ShopperFest sessions. The list of the certification sessions being offered at this year's ShopperFest will be announced shortly.
What is special about taking certification courses at ShopperFest?
You attend a complimentary review session led by an instructor who can answer your questions before taking the exam.

You take the exam at the conference and receive notice of your passing status onsite before you leave.

Those who pass the exam are recognized at the closing luncheon. This includes:

Your name being announced and recognized at the closing luncheon

Being awarded a physical certificate for passing the course (only given at ShopperFest)

Being awarded a commemorative pin for passing the course (only given at ShopperFest)

A photo for the newsletter of you and your passing classmates

It costs the same price for a certification course completed at ShopperFest as it does when purchasing year-round at home on KnightOwl.
What is the refund policy?
Register with confidence. If you register and need to cancel or request a refund, you are entitled to 100% refund until May 31, 2023.
Pricing
Conference Rate:
IC-Plus Registration: $199 Per Person
Basic Registration: $225 Per Person
The hotel is located at the airport.
Cancellation Policy: Full refund of registration fees through May 31, 2023.
Hyatt Regency Pittsburgh International Airport
1111 Airport Blvd



Pittsburgh

,

PA

15231

United States



Friday, June 9, 2023 5:00 PM - Sunday, June 11, 2023 12:00 PM (EDT)