Surviving & Thriving | Post-COVID Strategic Summit
Sunday, November 8, 2020 5:00 PM - Tuesday, November 10, 2020 12:00 PM (EST)
Description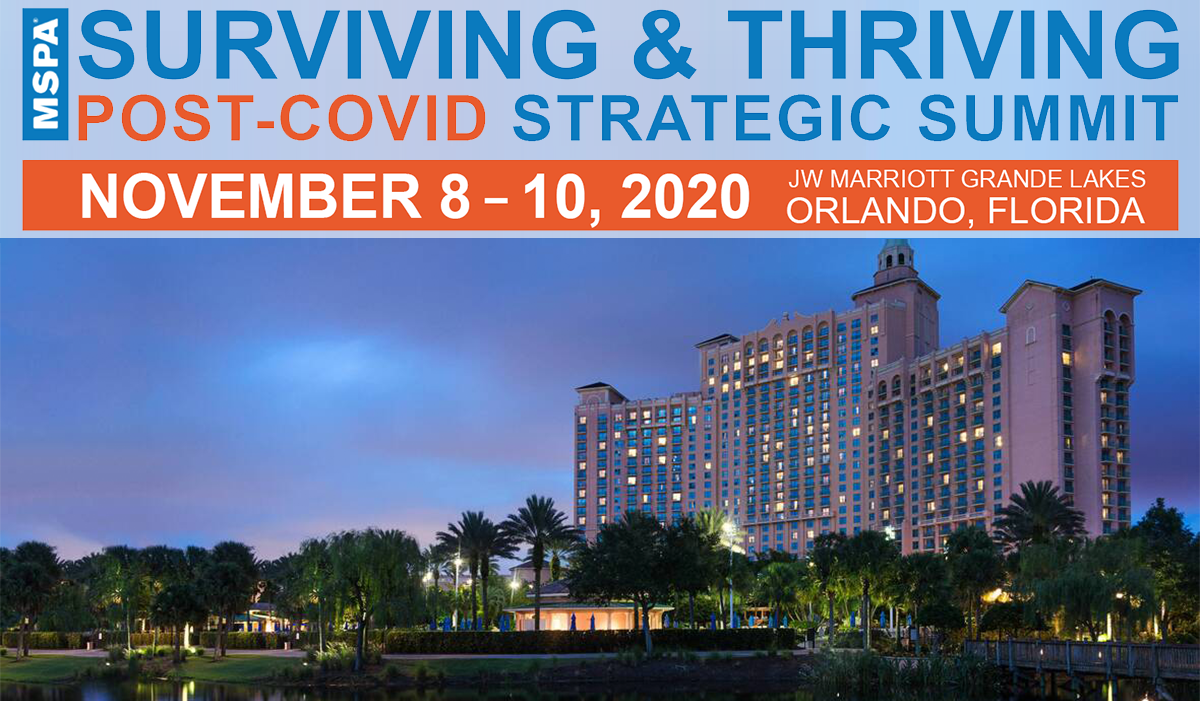 Join us for the MSPA Americas Surviving & Thriving Post-COVID Strategic Summit
Onsite | Online
Summit registration: https://mspaamericas.growthzoneapp.com/ap/Events/Register/nplz7gKL
Room reservation: https://book.passkey.com/go/MSPAAmericasCOVID19Summit
Your onsite or virtual registration includes unlimited virtual access to members of your company to virtually attend this important strategic summit!
Summit Sessions Agenda
November 8 - 10 onsite
November 9 - 10 online
Check here for updates and additions
The Good, the Bad and the Ugly: The COVID-19 Journey
In a top-20 metro area of residents with 70 million visitors a year, Orange County is one of the nation's largest regional economies, and as such faced a tremendous challenge in balancing public safety with business interests in 2020. Meet members of the Orange County Economic Recovery Task Force as they share insights into what transpired in real time and how they came together to minimize health issues and economic damage to this vibrant marketplace. Moderated by Roseann Harrington, Chief of Staff to Orange County Mayor Jerry Demings and member of the task force.
Roseann Harrington
Chief of Staff to Orange County Mayor Demings
COVID-19 Medical Panel: What We've Learned, What We See
An extraordinary and unprecedented time. A dangerous and ruthless disease. 2020 has been a year of unforeseen challenges, tragedies, and changes to our way of life. But what have we learned about the disease and what is the latest prognosis? A panel of leading medical experts will walk you through their first-hand experiences with COVID-19, what they have learned during that time, and how to best make sense of the short and long term future in a COVID world. The panel features Dr. Anthony Crespo (Department Chairman for Infectious Diseases at Orlando Health), Dr. Yolanda Martinez (Orange County Health Services Director) and Dr. Vincent Hsu (Epidemiologist and AdventHealth's Infection Control Officer).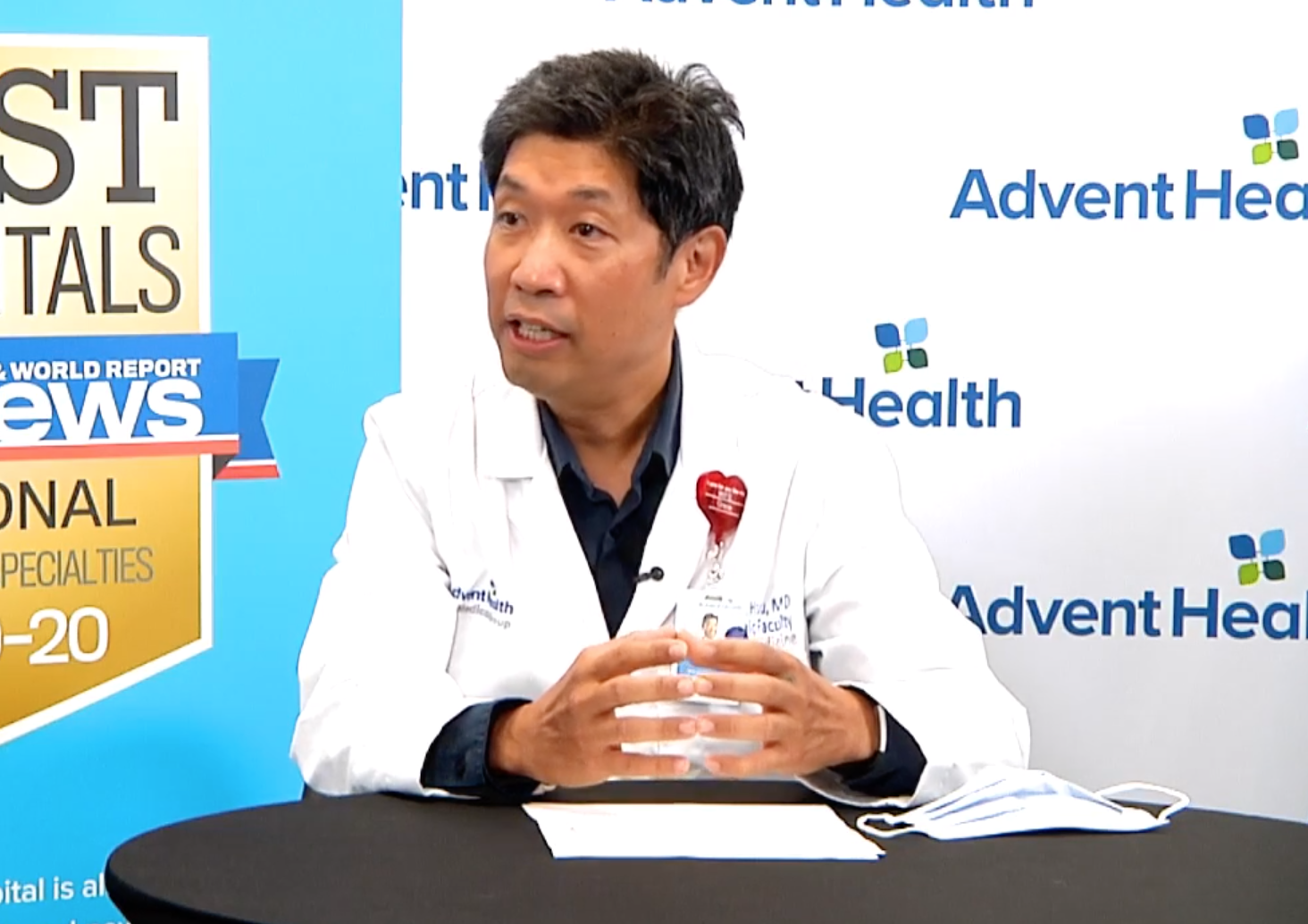 Dr. Vincent Hsu
Epidemiologist and AdventHealth's Infection Control Officer
COVID-19 Liability Forum: Protecting you and your Clients
To date Congress has failed to pass legislation that would provide immunity to businesses for COVID-19 liability claims. What is the likelihood of a bill being signed into law? In the interim, and if no bill ever comes about, how do you best protect your clients, your independent contractors and your very own company in this unprecedented business climate?
Adapting to an Uncharted Marketplace
The business world has already changed dramatically this year. How much of this is permanent? And for those elements which may not be here for the long term, what is their timetable? How do we adapt to re-invigorate our businesses and help our clients get back on to their own paths of success? A panel of business leaders who work in the realms of local, national, and international dynamics share their insights on the future and the best roads to profitability.
Financial Resources Toolkit: Beyond PPP
You've got your PPP loan, maybe your EIDL loan – now what? How does forgiveness work? Are there any more current resources out there that you haven't tapped? What is the latest on another round of stimulus? Our financial expert will answer all these questions and more in this very important session.
While You Were Quarantining: Independent Contractor Law Changes and Present Status
Much has happened this year regarding the status of independent contractors, and most of it is good news! If you have missed out on the information along the way regarding developments at the federal level and in select states like California, this is a perfect catch-up session led by MSPA Americas' Legislative Advisor and Lobbyist, Russ Hollrah.
The Hunt for Independent Contractors
Many of our members already know that COVID-19 has decimated many of our independent contractor pools in 2020 for various reasons. Now, as the economy re-opens, the demand to attract more shoppers and merchandisers is one of the obstacles to everyone's success. This brainstorming session will help address creative ways of adding to the pools of contractors available to members.
2021 Industry Insights: Retail
Now that we've gotten our minds around what we've been through and how to survive it at the highest levels, what is the forecast for recovery in major industries like retail? We'll review the fallout and the future for an industry which is one of the key drivers of our economy and a vital part of many of our members' client base.
2021 Industry Insights: Hospitality
The shutting down of our economies has had devastating effects on restaurants, hotels, attractions, casinos and other forms of hospitality. But the tide is turning and there is reason for optimism on the horizon! This panel of hospitality leaders will share national data and other information to help you understand the timetables for recovery and opportunities to engage with your clients.
Innovating to Thrive
When the rules change, innovation is the key to survival! COVID-19 has certainly changed the world for all of us, and creativity is now vital to staying relevant. Chris Green of T-ROC shares how he and his company took on the challenges of a new environment to develop a responsive product and meet client needs in new ways as a template for how we can all re-invent ourselves.
---
About the JW Marriott Orlando Grande Lakes: Make your Florida escape an extraordinary one at JW Marriott Orlando, Grande Lakes. Our luxury resort at Grande Lakes is located on a lush, 500-acre property and is ideal for exploring the Orlando area -- or for relaxing poolside in the Florida sunshine. Choose from modern rooms offering luxury bedding, marble bathrooms, 65-inch HDTVs and sweeping views of our Florida resort. Unwind at our outdoor pool complex, including a lazy river, or try our challenging 18-hole golf course designed by PGA great Greg Norman. Select from enticing in-house dining options, from luxury Italian fare at Primo to a farm-to-table menu and craft beer at Whisper Creek Farm. Make use of our hotel shuttle to visit premier Orlando attractions such as Walt Disney World and Universal Studios, or take advantage of our hotel's excellent location to explore gorgeous Central Florida. Reserve your stay at JW Marriott Orlando, Grande Lakes for an exceptional resort experience that you and the family will remember.
Images
Pricing
$549 for onsite registration
$199 for online registration
JW Marriott Orlando Grande Lakes
4040 Central Florida Pkwy



Orlando

,

FL

32837

United States